CYBERDYNE's Philosophy and Business Vision
"Technology should be for humans and their society."
When I established CYBERDYNE Inc., my intention was to thoroughly incorporate this principle and create an enterprise that implements people-friendly technology for the benefit of society.
Many companies are currently based on a business model that consists of generating profits by manufacturing and selling as many products as possible and getting people to continuously consume. Because their technology is employed with the premise of consumption, it can result in a negative impact on resources and the environment, as well as people's health and happiness. My thinking, on the other hand, aims to create value by providing solutions to the issues that face people and their society through the application of technical innovations that do not focus on mere consumption.
The vision I am delineating through my business is the creation of a new industrial model that promotes an industrial and social transformation from our current consumption-based economy to one based on innovative solutions to critical social issues. We can accomplish this by continuing to create innovative technologies to solve these social problems, generating a new market centered around industries that employ the methods that provide these solutions at its core, and cultivating the next generation of pioneers. A positive cycle driven by these three simultaneous endeavors is our vision for the future, and CYBERDYNE is the enterprise that will lead the way.
Our Journey So Far
We spent many long years creating the technology to realize a system for improving, supporting, enhancing, and regenerating lower-limb function using the world's first cyborg-type robot, HAL®. In 2013, CYBERDYNE achieved a major milestone with the birth of HAL® for Medical Use (Lower Limb Type), the world's first innovative robot to obtain medical device certification throughout the EU. Moreover, the German public worker's compensation insurance system began covering treatments using HAL®, subsequently leading to its fully fledged application in Germany. In order to accelerate our business development and take a step closer to our envisioned future, we decided to list CYBERDYNE Inc. on the MOTHERS market of the Tokyo Stock Exchange in March 2014.
CYBERDYNE's Business Highlights (April 2014 - March 2015)
During the fiscal year that ended on March 31, 2015, CYBERDYNE rapidly accelerated its business, and importantly, established a solid foundation for the coming growth stage.
In November 2014, we submitted an application for approval of HAL® for Medical Use (Lower Limb Type) as a medical device to the United States Food and Drug Administration ("FDA"), and followed that with an application for approval by the Pharmaceuticals and Medical Devices Agency ("PMDA") in Japan in March 2015. Once we obtain these approvals, we will be able to distribute the medical robot suit HAL® to the three major markets of the United States, Europe*1 and Japan, which account for 72.0% of global healthcare spending.
CYBERDYNE also added a host of innovative business lines during the fiscal year. New launches included HAL® for Labor Support (Lumbar Type) and HAL® for Care Support (Lumbar Type), which have been making steady headway into building sites, construction work sites, and nursing care facilities since September 2014. These two models became the world's first wearable robots for laborers and caregivers to receive ISO 13482 certification, an international safety standard. In February 2015, HAL® for Living Support (Single Joint Type) was launched, followed in March by a new automated Transport Robot with AI. These are already starting to be used in settings such as hospitals and factories.
In addition to product development, we also accelerated efforts to prepare the foundation for driving our business forward. In December 2014, we succeeded in procuring through an international offering a total of ¥41.4 billion as funds for our future business strategies and investments. We are already using these funds to build a global network of operating bases, expand our production capabilities, establish production technologies, secure innovative technologies and personnel, and begin preparations to set up an international advanced medical development center for Cybernics with the future in mind.
*1 Europe includes the EU member states plus Switzerland.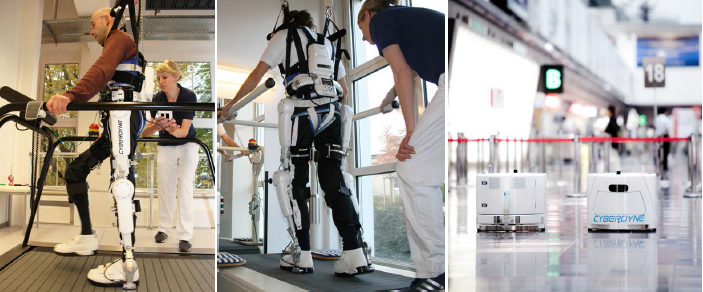 CYBERDYNE Going Forward
CYBERDYNE will further accelerate its initiatives in the fiscal year ending on March 31, 2016 and beyond, in order to realize its vision as soon as possible.
In addition to the application for approval of HAL® as a medical device to the FDA and PMDA, we are applying for the coverage of treatment with HAL® under the German public medical insurance scheme, further expanding access from the aforementioned German public worker's compensation insurance system. As preparations for a full-scale launch of HAL® for Medical Use (Lower Limb Type) in medical markets around the world begin to come together, we expect to see an increase in orders from medical institutions that are taking a progressive stance on promoting the next generation of medical innovation. Upon approval of these applications, we will have arrived at the next stage of accelerating our business to full-scale service propagation.
We are also taking early steps to enhance our business lines in the areas of daily life, that include work sites in medicine, living support, and labor support fields. For example, we are advancing the development of a Cleaning Robot equipped with AI and advanced spacial recognition features, along with various vital signal sensors that can help prevent diseases like atherosclerosis and sinus arrhythmia. Our Cleaning Robot is already being introduced alongside our Transport Robot and HAL® for Labor Support (Lumbar Type) at Tokyo International Airport (Haneda) to aid in the realization of an airport of the future using next-generation robots. Innovative research combining HAL® for Medical Use (Lower Limb Type) with pharmaceuticals and regenerative therapy is currently underway, along with research addressing stroke; dementia, which is an emerging social issue; and orphan diseases such as Parkinson's disease.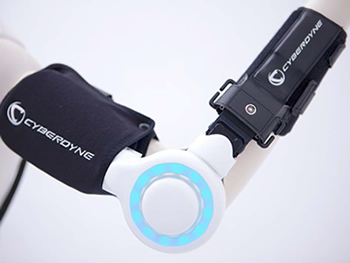 Moreover, as I noted in the beginning, CYBERDYNE's emphasis is on creating innovative technologies to address issues faced by society, creating a new market centered on new industries arising from the very solutions to these issues, and developing the people who will become our future pioneers.
As a specific example of our initiatives, we are advancing preparations to establish an international advanced medical development center for Cybernics in the National Strategic Special Zone in Kanagawa Prefecture launched by the Japanese government. Through this project, we will bring together companies and people with innovative medical devices and technologies, and combine them with CYBERDYNE's functionality and expertise to accelerate the creation of new businesses and industries related to medicine. We have already started working on the idea of commercializing a range of services that utilize a world-class supercomputer to analyze big data collected and compiled by all of the devices distributed by CYBERDYNE. Furthermore, a production site currently under construction in Fukushima Prefecture is being prepared to be outfitted as a next-generation multipurpose robotized production facility that links people and robots at a high level. This next-generation production model has the potential to be developed into a production solutions business that provides support to people in an age of a declining birthrate and aging population.
Message to Our Stakeholders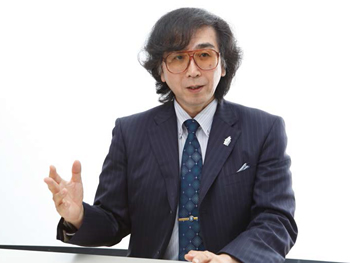 CYBERDYNE primarily pursues public interest within a capital economy, while seeking to create and develop new industries. Basically, there are no existing markets for CYBERDYNE's businesses. As we have always said, our role at CYBERDYNE is to grapple with uncertainty and seek innovation, replacing each of the five no's in "no market, no user, no industry, no professionals, and no social rules" with the adjective new.
We ask our stakeholders to join us in focusing on the many critical issues faced by people and society today, and transforming industries to create a new society for the future.