CYBERDYNE will temporarily open a store in Yurakucho Marui where visitors can try HAL Lumbar Type, a product used in HAL at Home, for free on the following dates.
Date and time: One month from April 10 (Sat.) to May 9 (Sun.), 2021
Opening hours: 11:00 a.m. to 5:00 p.m.
Location: Yurakucho Marui, 7th floor, in front of the escalator going up
Access: 2-7-1 Yurakucho, Chiyoda-ku, Tokyo
https://www.0101.co.jp/086/access/
Special offer: The visitor who takes part in the free trial can receive a 9,900 yen (including tax) coupon for HAL at Home if they choose to pay by Epoch Credit Card. For details, please visit the venue.
Yurakucho Marui 7th floor map: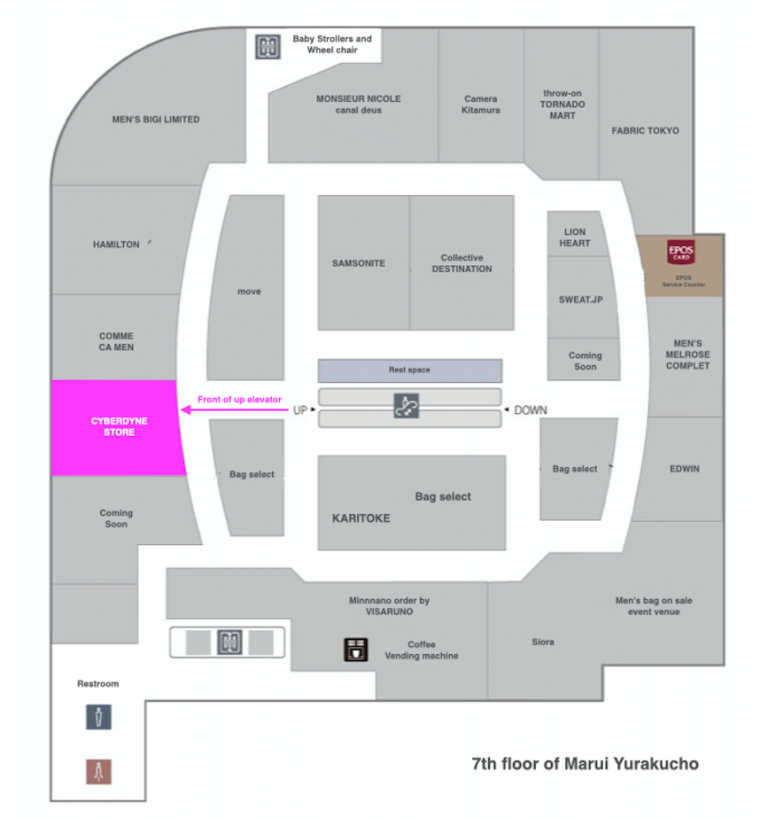 ■About Neuro HALFIT at Home
Neuro HALFIT at Home is a new program that enables individuals to induce improvement of the brain, nerve, and musculoskeletal functions by utilizing the world's first Wearable Cyborg HAL(*1*2) on daily basis. Even for people who have difficulty standing, sitting, walking, or moving their arms on their own due to a decline in physical function from aging, diseases or injuries, etc., HAL supports the intended motion of the wearer. Neuro HALFIT at Home is served as a full online support service connected with the cloud.
Please see the Company online store for further details on the service)
https://store.cyberdyne.jp/
Reference:
【Campaign】HAL at Home campaign that guarantees a full refund in case of dissatisfaction
CYBERDYNE Inc. (Tsukuba, Ibaraki, CEO: Yoshiyuki Sankai, from now on referred to as "the Company") announced a campaign that guarantees a full refund of HAL at Home canceled within 14 days. The campaign starts from April 1, 2021, to May 31, 2021.
https://www.cyberdyne.jp/english/company/PressReleases_detail.html?id=10706
■New TV Advertisement schedule from April 1 (Thu) 2021
Neuro HALFIT at Home ~ What we want to deliver is the joy of being able to move freely.
Outline of television advertisement
Start date: April 1 (Thu) 2021
Regions covered: Kanto area (Ibaraki, Tochigi, Gunma, Saitama, Chiba, Tokyo, Kanagawa)
April scheduled slot: https://store.cyberdyne.jp/html/user_data/cmtimetable.pdf
the advertisement will be shown on Nippon TV, TV Asahi, TBS Television
Title: CYBERDYNE Neuro HALFIT at Home "Delivering the joy of moving freely" (15 Sec/30 Sec)
Outline of advertisement on website
Start date: February 5 (Fri) 2021
Title: CYBERDYNE WEB CM "Cyberdyne: Pioneer the future with Cybernics" (95 Sec)
Title: CYBERDYNE HAL at Home CM "Day to day for the next step" (95 Sec)
The advertisement videos can be accessed from https://store.cyberdyne.jp/user_data/cmlp