CYBERDYNE Inc. (the "Company") announces that the Meeting of the Board of Directors held today passed the resolution to conduct the Shareholder Benefit Program in the following manner.
1. Background of the Shareholder Benefit Program
The Company implemented the Shareholder Benefit Program to respond to the support we receive from our shareholders daily and deepen their understanding of our business. Our Shareholder Benefit Program can be regarded as insurance in case of unexpected circumstances. To strengthen this aspect, we have resolved to expand the program's target and provide a further discount for Neuro HALFIT at Home. In addition, we have prepared a new Shareholder Referral Scheme for shareholders who were unable to use the benefits due to the limitation of targets.
Based on "Health and Welfare for All", one of the Sustainable Development Goals (SDGs) set forth by the United Nations, the Company and its subsidiaries (the "Group") are promoting efforts to realize a society in which people suffering from physical disabilities due to illness or injury can continue to participate in social activities. And since the fiscal year 2019, the Group have been offering Neuro HALFIT* to shareholders holding at least one unit of shares with a special price, to alleviate the physical and mental burden of illness and injury for shareholders and their families.
*Neuro HALFIT is a program designed to induce improvement of the brain-nerve-musculoskeletal function by using the world's first Wearable Cyborg HAL by forming a healthy loop of neural signals. The program supports people who have difficulty standing, sitting, walking, or moving their limbs by themselves due to a decline in physical function from aging, diseases, or injuries.
2. The Shareholder Benefit Program for the fiscal year 2022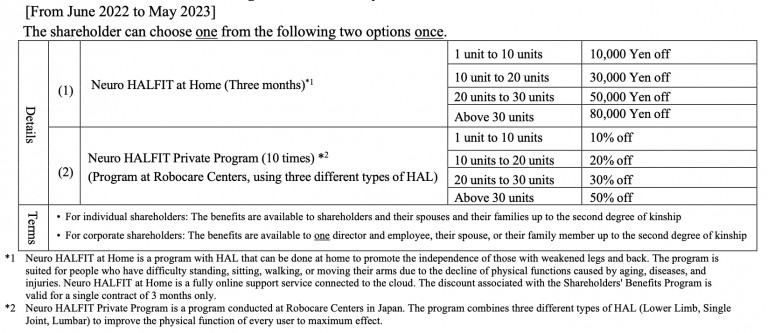 3. Effective period of the new program
The new program for fiscal year 2022 will apply to shareholders recorded in the shareholders' register as of March 31, 2022. (The current system will apply to shareholders that are recorded in the shareholders' register as of March 31, 2021.)