On March 29, 2023, CYBERDYNE, Inc. (the "Company") determined to acquire part of the equity of a German company called LeyLine GmbH (State of Nordrhein-Westfalen, Germany, from now on referred to as LeyLine). This company operates PETRONAS MIE Racing Honda Team. The Company will also underwrite a third-party allotment of shares (the Company's investment in LeyLine), making LeyLine the Company's subsidiary.
1. Background
LeyLine's philosophy is to continue innovating in motorcycle racing by leveraging the development, prototyping, manufacturing, and management skills under extreme racing conditions that CEO Midori Moriwaki has cultivated through domestic and international motorcycle competitions such as World Superbike Championship.
The Company group's Cybernics Technologies include IoH/IoT sensing, artificial intelligence autonomous robot technology, Cybernics mobility technology, advanced elemental technologies such as environmental awareness, Big Data, AI analysis, cloud computing, and human-robot integration technologies, and is working toward deployment in the mobility field, including autonomous robots for cleaning and transportation and next-generation Cybernics mobility. In September 2021, the Company group entered a strategic partnership with LeyLine. In addition to the development of the above-mentioned self-driving robots and Cybernic mobility, the Group has been developing technologies to ensure driver safety in the area of top athletes and to acquire and analyze cranial neuromuscular system information and critical parts to be used in EV bikes.
The Company has reached this agreement because LeyLine is expected to accelerate the business and increase the Company's corporate value in the field of mobility.
2. Outline of the subsidiaries to be transferred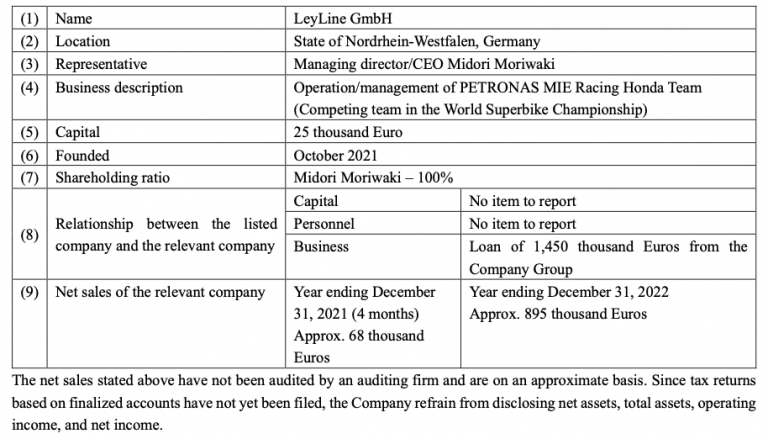 3. Outline of the counterparty of the acquisition of the equity interest


4. Percentage of ownership interest in the acquisition, acquisition price, and status of ownership interest before and after the acquisition


5. Schedule


6. Prospects
Since the acquisition date of LeyLine is set for the final date of the fourth quarter of the current consolidated fiscal year, this acquisition will have no impact on the consolidated financial results for the consolidated fiscal year ending March 31, 2023. The impact on consolidated financial results for the next fiscal year (ending March 31, 2024) is currently under scrutiny and will be disclosed as soon as there are matters that require disclosure.