CYBERDYNE Inc. [Tsukuba, Ibaraki, CEO: Yoshiyuki Sankai (the "Company")] announced to form a strategic partnership with CellSource Co., Ltd. [Shibuya, Tokyo, CEO: Masato Tsumamoto, ("CellSource") ]. CellSource is a company that develops regenerative medicine related business such as contract processing of adipose-derived stem cells and blood. The two companies will jointly promote business detailed below.

A new treatment method that combines Regenerative Medicine and HAL Program
CellSource receives contracts from 550 medical institutions to retrieve their patients' adipose tissue and blood to process stem cells for regenerative medicine.
The Company provides services with its Wearable Cyborg HAL called Neuro HALFIT at 16 Robocare Centers*1 in Japan and users' homes*2 for those experiencing reduced physical functions from aging or diseases. The two companies formed a partnership to combine their strengths to invent new treatment methods for patients with osteoarthritis of the knee caused by aging. Combining regenerative medicine using adipose-derived stem cells and the HAL technology help recovery after treatment, guide natural joint movement, and safely increase muscle mass by distributing the applied load.
Proposing HAL Program to hospitals working with CellSource
The two companies will work together to propose HAL Program to orthopedic hospitals working with CellSource. If the doctor deems it appropriate, the two companies will introduce the patient who went through regenerative medicine using adipose-derived stem cells or PFC-FD*3 to consider the HAL Program.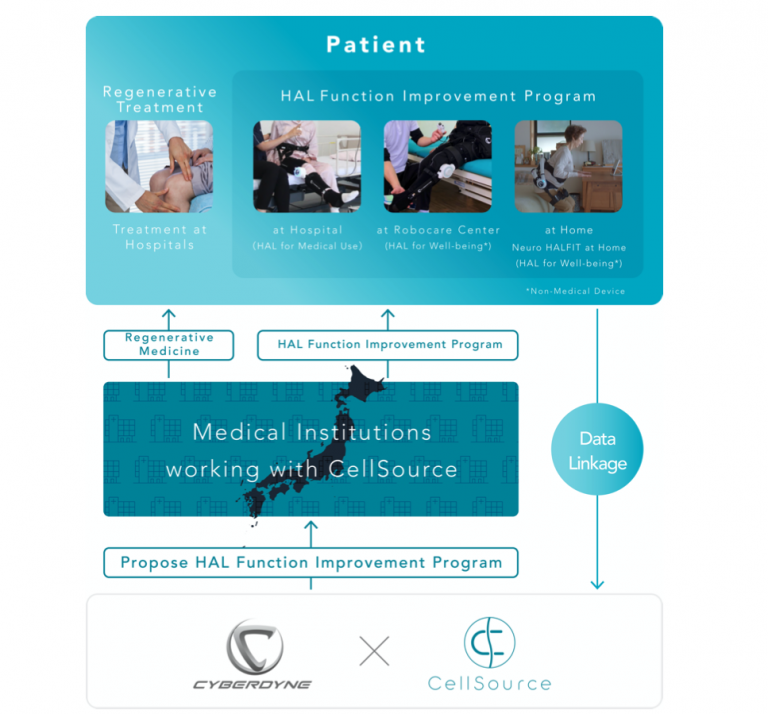 *1 Location of Robocare Center in Japan
Website of Robocare Center Group https://robocare.jp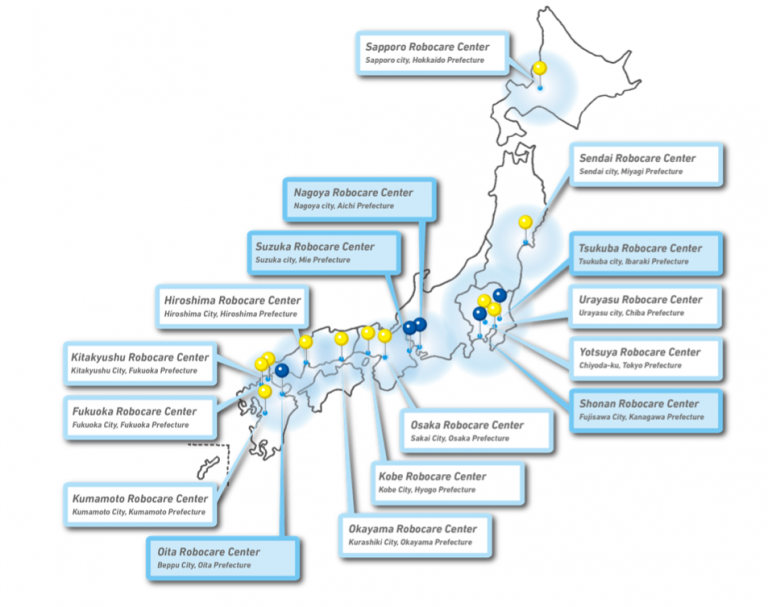 *2 About Neuro HALFIT at Home
The Group offers Neuro HALFIT at Home as a contactless service that makes up for the reduction of physical activity as the result of "stay home" movement to prevent COVID-19 infection. HAL is synchronized with the Cloud system of CYBERDYNE, visualizing information of bio-electrical signal and postural information. The wearer can get visual feedback of their program and receive support from their therapists/trainers remotely. Following the partnership, two companies will provide Neuro HALFIT at Home to individuals who have difficulty visiting facilities frequently.
CYBERDYNE HAL at Home advertisement video: https://store.cyberdyne.jp/user_data/cmlp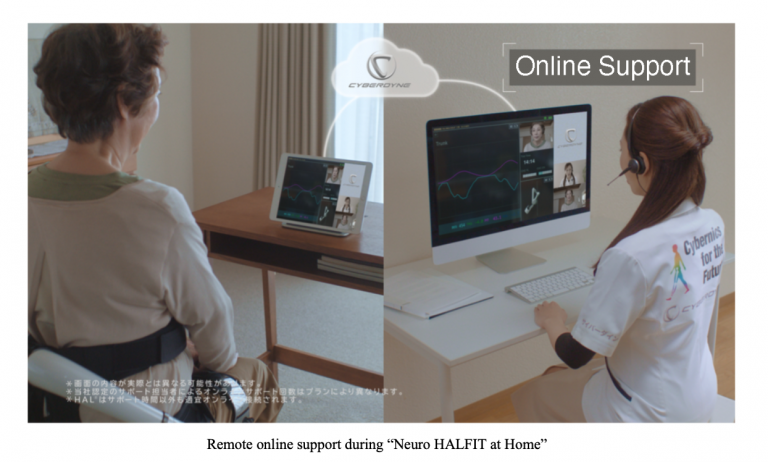 *3 Explanation on PFC-FD
PFC-FD is a substance made from the patient's blood. Firstly PRP (platelet-rich plasma) is produced from the blood. The growth factors are then concentrated, acellularized, and freeze-dried into a powder form so that the substance can endure storage for a long time at room temperature.
CellSource has patented the preparation method for PFC-FD.
■About CellSource
CellSource aims to commercialize regenerative medicine. CellSource conducts support to medical institutions on legal matters and processes adipose-derived stem cells, blood. CellSource has been entrusted with more than 16,000 cell processing cases at a facility license to manufacture specified cell processing products under the Law for Securing Safety of Regenerative Medicine (Facility No.: FA3160006). Based on its extensive track record, CellSource strives to provide services, research, and technological development that medical institutions can use with peace of mind.
■About CYBERDYNE
The Group aims to realize Society 5.0/5.1, a new vision of society based on Techno-Peer Support. To realize this society, the Group works to create an industry based on innovative Cybernics Technology capable of fusing "humans" and cyberspace (virtual world)/physical space (real world). The foundation of Cybernics Technology is the Internet of Humans/Internet of Things ("IoH/IoT"), Robots, and AI. The technology connects various fields such as medicine, nursing-care, production, and other workplaces with households. The Group aims to create a new industry based on this technology to solve various problems that exist in our society today. The Group's business has a unique advantage in its ability to access and integrate information inside the human body (such as Brain-nerve and vital systems) and information outside the human body (such as behavioral, life, and environmental). The information obtained will be sent to a supercomputer for analysis and AI Processing to discover innovative solutions to social problems. The Group simultaneously works on research and development, business development, and business alliances to establish such a system that could realize the future society of Society 5.0/5.1.
Link: News Release of CellSource (Available in Japanese)
https://www.cellsource.co.jp/news/20210215/