CYBERDYNE Inc. (from now on referred to as the "Company") are pleased to announce that the Disinfection Cleaning Robot CL02 developed by the Company has been certified as Tsukuba Quality. Tsukuba Quality is a certification given by Tsukuba City to outstanding products and services originated in Tsukuba City. The certificate helps promote Tsukuba City's industries by supporting the development and promotion of sales channels domestically and internationally. The certificate is also to improve the image of Tsukuba City itself.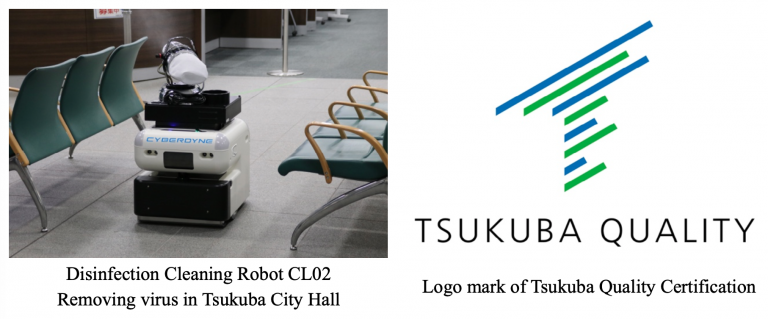 ■ About Disinfection Cleaning Robot CL02
Disinfection Cleaning Robot CL02 removes viruses safely with its sprayer and UV light beam. The robot is capable of navigating autonomously with a high-performance laser and a 3D camera developed in-house. The unique SLAM technology and self-developed drive motors equipped on the robot enable it to precisely follow a set route by controlling its behavior. This navigation technology allows the robot to accurately spray disinfection agents and beam ultraviolet rays to targeted areas. As an optional feature, the Company can set up an interface unit that connects the robot to an elevator developed by different companies via a wireless connection. The interface unit enables the robot to move to other buildings' levels automatically without human intervention. Link to the elevators also realizes the automation of removing viruses and cleaning floors in a building with multiple levels.
https://www.cyberdyne.jp/english/products/cl02.html
■ About Tsukuba Quality Certification (available in Japanese only)
https://www.city.tsukuba.lg.jp/jigyosha/shigoto/sangyo/1013530.html
■ Link to related article
Published on August 25, 2020
【News】First installation of disinfection robot in local government building
https://www.cyberdyne.jp/wp_uploads/2020/08/20200825_PR_eng.pdf