The Company announces to start offering MTX Neuro HAL Plus as a program to improve the performance of the athletes' brain-nerve functions. In addition to Yotsuya Robocare Center, the program will be launched as a new service in Tsukuba, Shonan, Suzuka, Nagoya, Osaka, Kobe, Okayama and Oita Robocare Centers.
The Company established Movetex Kabushiki Kaisha through joint investment with General Incorporated association IWA JAPAN and I&H Co., Ltd. Initially IWA Japan was offering "IWA Neuro HAL Plus" at their center Yotsuya Robocare Center, but after the establishment of Movetex, the program was developed further to be hosted at other Robocare Center and renamed to be "MTX Neuro HAL Plus".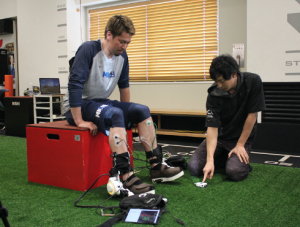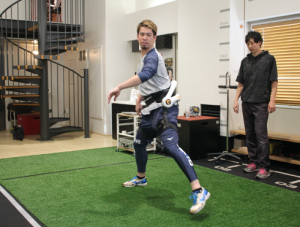 Baseball player Kenta Maeda working on Neuro HAL Plus
Photo provided by MOVETEX Kabushiki Kaisha
Robocare Center will make further contribution to the field of health & sports, prolonging health and longevity and to society in general through its new service of MTX Neuro HAL Plus.
What is MTX Neuro HAL Plus
MTX Neuro HAL Plus is a program for athletes designed to improve the performance of the brain and nerve systems. In order to raise the level of performance in sports, one should not only train their muscles, but also train their brain-nerve systems. By accurately using the muscles they wish to use and relaxing muscles that does not need to be used, one can have ultimate command over the movement of their body. Also by training to switch it faster, one can improve their agility. MTX Neuro HAL Plus utilizes the cutting-edge Cybernics technology such as the world's first Wearable Cyborg HAL to effectively improve the performance of the brain-nerve system, which was thought to be difficult with the conventional sports training method.
Number of athletes such as baseball player Kenta Maeda and Ena Shibahara, who have won 3 WTA tennis tours, have adopted Neuro HAL Plus in their training.
The Company plans to introduce MTX Neuro HAL Plus to sports facilities and teams around the world, to improve their sports performance.
Service available at: Yotsuya, Tsukuba, Shonan, Suzuka, Nagoya, Osaka, Kobe, Okayama and Oita Robocare Center
Name of the service: MTX Neuro HAL Plus
Targets: Athletes at all levels
Price: Please send an inquiry to Robocare Centers
Time of program: 60 min or 30 min
Detail: Training utilizing mainly Wearable Cyborg HAL.
Japanese TV talent, Fuku Suzuki trying out the MTX Neuro HAL Plus (available in Japanese only)
https://www.youtube.com/watch?v=DIqU0uCf1DE