CYBERDYNE Inc. (Tsukuba, Ibaraki, CEO: Yoshiyuki Sankai, from now on referred to as "the Company") is pleased to announce the grand opening of the Yee Zen General Cybernics Treatment Center at Yee Zen General Hospital, a group hospital under the CHC Healthcare Group ("CHC Group"), a major medical equipment trading group in Taiwan. The center will utilize HAL for Medical Use Lower Limb Type, which was approved as a medical device by the Taiwan Food and Drug Administration (TFDA) Welfare in October 2020.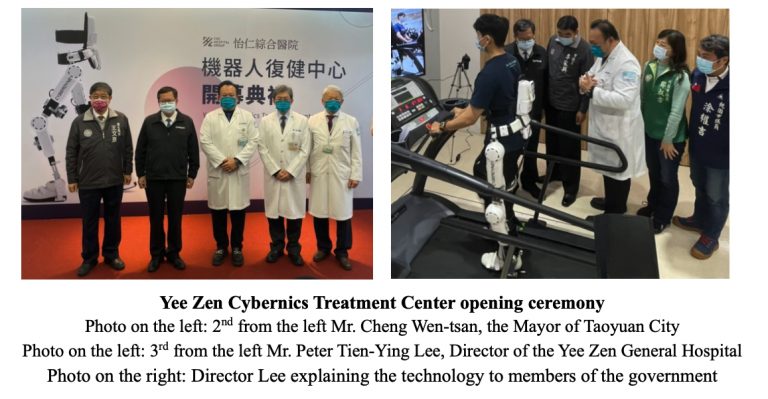 At the Cybernics Treatment Center opening event, Mr. Cheng Wen-tsan (Mayor of Taoyuan City), Director of the Health Bureau of the city government, city council members, and Mr. Peter Tien-Ying Lee, Director of Yee Zen General Hospital was present. Mayor Cheng Wen-tsan made the following remarks.
"I believe that CYBERDYNE's treatment with AI and Robotic technology will be a great blessing to those in need. The technology improves treatment effects towards people with paralysis and motor dysfunction, enabling patients to regain their physical and mental health."
Related article on the website of the Taoyuan City Government
https://www.tycg.gov.tw/ch/home.jsp?id=10412&parentpath=0,10401&mcustomize=news_view.jsp&dataserno=202103240009&aplistdn=ou=news,ou=chinese,ou=ap_root,o=tycg,c=tw&toolsflag=Y
Article published by Cyberdyne in relation to TFDA approval on October 20 in 2020
https://www.cyberdyne.jp/wp_uploads/2020/10/20201020_PR_eng.pdf
■About CYBERDYNE
CYBERDYNE Group (the "Group") aims to realize Society 5.0/5.1, a new vision of society based on Techno-Peer Support. To realize this society, the Group works to create an industry based on innovative Cybernics Technology capable of fusing "humans" and cyberspace (virtual world)/physical space (real world). The foundation of Cybernics Technology is the Internet of Humans/Internet of Things ("IoH/IoT"), Robots, and AI. The technology connects various fields such as medicine, nursing-care, production, and other workplaces with households. The Group aims to create a new industry based on this technology to solve various problems that exist in our society today. The Group's business has a unique advantage in its ability to access and integrate information inside the human body (such as Brain-nerve and vital systems) and information outside the human body (such as behavioral, life, and environmental). The information obtained will be sent to a supercomputer for analysis and AI Processing to discover innovative solutions to social problems. The Group simultaneously works on research and development, business development, and business alliances to establish such a system that could realize the future society of Society 5.0/5.1.